let_us_get_you_india_bound
Let's Get You India Bound!
India is a land of different cultures and languages, with a rich history. This country comprises 28 States and 8 Union Territories, all with their unique essence and atmosphere. It would take many lifetimes to get enough of this magical land! With all the different cultures and traditions, the climate also differs across the geographical spheres of India.
Before you set sail on this journey - brimming with beautiful scapes, scents, and flavours of India, there is one major thing that you need to take care of - packing for the trip. Packing for a country like India can be a bit overwhelming. You might also feel like you haven't packed enough. Take a deep breath as we are here to help you figure out a checklist.
Here is a list of all the essentials you will need to pack for your trip to India.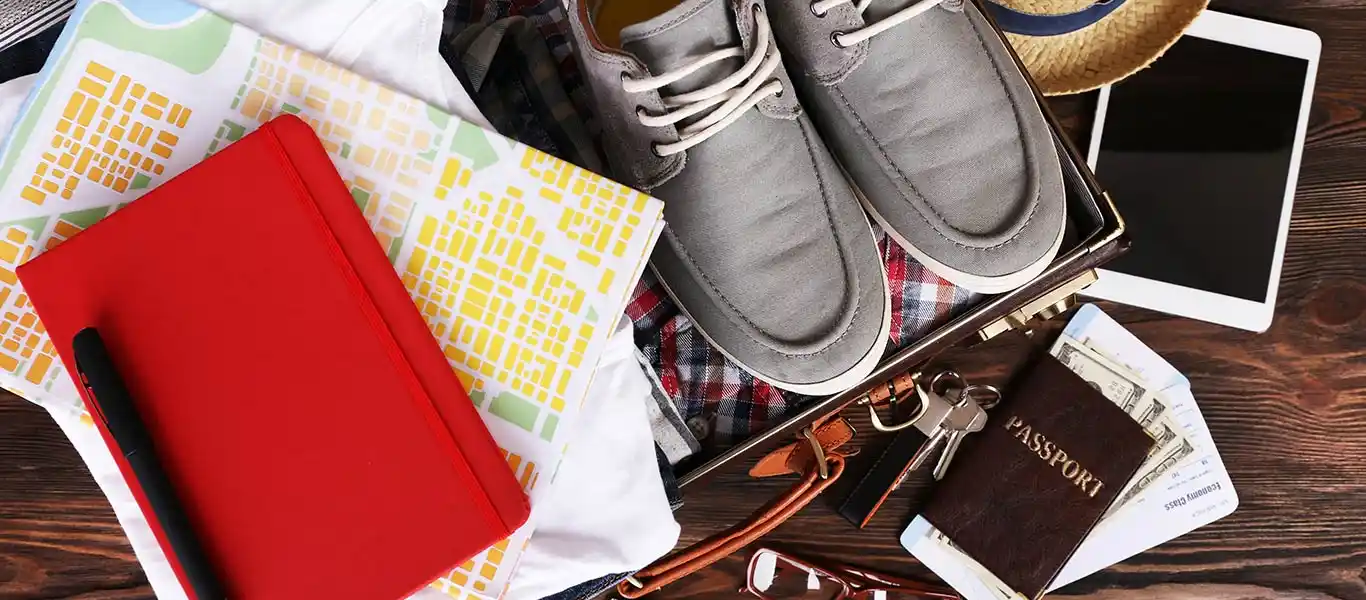 India is probably the best country in the world, both scenic and peaceful; it truly is god's country.
- Kobe Bryant
What should you wear?
India can be crazy hot or bitterly cold, but one thing is for sure - you will have a great time regardless. Remember - "When in India, do as the Indians do." Indian people hold their culture and customs close to their hearts, it is of great pride for them. Natives dress modestly here and appreciate it when people coming from different lands show respect for their traditions. Cotton and linen fabrics are perfect for hot and humid weather. Carry layers and woollen clothes if you wish to visit a colder region. A pair of flip-flops and a good pair of sports shoes are a must-have, as you might find yourself walking a considerable amount.
Let's talk gadgets!
Make sure to carry from your home country or buy in India - the plug converter/adapters, which come in either Type C, Type D, and Type M, as it would be far more convenient for converting your machine plug types to the local plug sockets. A great music playlist on your phone or other music devices will make your travel even more pleasant. Earphones, portable chargers, and a pen-drive with your important documents are all essentials that you must not miss out on. A good quality camera and tripod are brilliant for capturing your journey. But it's alright if you don't have one, as most phones these days have advanced cameras that are brilliant for capturing your journey.
The medical bag
Your medical bag must have all the necessary first aid items such as band-aids, antiseptic wipes, cotton swabs, gauze pads, etc. Students with any health conditions are advised to carry the respective necessary medications for the trip. Most medicines are readily available here in India but consult your doctor or refer to the medicine components, as the names of certain medications might differ.
NEXT IMAGE

Safety first
Keeping yourself and your luggage safe is very important, regardless of the country you are visiting. Make sure you have proper locks on all your luggage items. Label your luggage as that would make it easier to spot in a crowded place. When it comes to personal safety, it is advisable to share your location details with a trusted friend, family member, or, better yet, with the institute representative.
There is an app for that!
One of the perks of travelling in the digital age is that there is an app for everything. Various apps help you find a place to stay, be it a hotel, dorm, or private property. Coming from a different country, you might encounter lingual barriers; hence, it helps to have Google Translate on your smartphone. You can now click a picture of the foreign language text, and it will translate it to the language of your choice. Various map apps help you download an offline map of the area you are visiting, and you do not have to worry about wifi or data connection. Some apps help you keep a list of your flight and train journey details, whereas other apps allow you to convert the value of Indian currencies into the currency of your choice.
Now that you are all set, we'll be honest! One trip to India isn't enough; you'll keep coming back for more. This voyage is going to be rewarding in ways you've never imagined. This could quite possibly be your journey of self-discovery and acquiring a whole new perspective of the world. One thing is for sure - you'll make beautiful memories for a lifetime. We wish you a safe and happy journey!